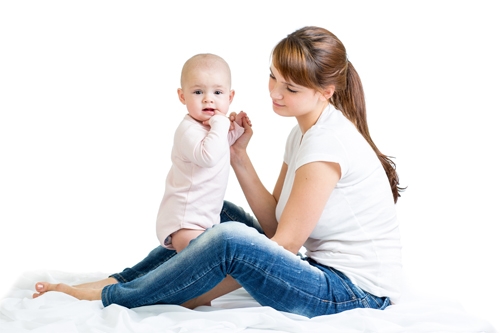 Hearing and your baby
Only one or two children in every 1,000 have significant permanent hearing loss.

Hearing well is important to your baby's development. If there are any problems in hearing, you need to find them early so that your child can get the help he needs.
If children who are born with a hearing loss receive help by six months of age, they have a good chance of learning to talk and communicate as well as children who hear normally.
[source: WA Government Health Brochure]
Refer who has hearing loss for info on what % of people suffer hearing loss in the general population.

Testing your baby's hearing
Babies can be tested when they are less than one day old.
To help in understanding the audiogram read and watch video on understanding your audiogram

How to check if you baby is hearing
Shortly after birth
- can be startled by a sudden noise and blink or open his eyes widely

By one month
- will notice long sounds, like the sound of a vacuum cleaner

By four months
- your baby quietens or smailes a the sound of a voice

By seven months
- your baby should turn immediately to your voice across the room

By twelve months
- your baby should show some response to his own nane and toher fmiliar words

Hearing loss should be considered when babies do not do these things
[source: WA Government Health Brochure]
Check this video that shows an audiologist working with children

She can hear if she wants to
A child may work out what has been said from knowing the situation of because she is keen to know. However understanding what has been said will require extra mental effort.
Hence parents sometimes think children are not hearing impaired because they manage to understand in some environments.

Delayed language development
Children who do not hear well-:
- may start talking later than other children
- use the wrong word
- have unclear speach
- may miss quick, quite sounds and connecting words (like 'and' and 'the') and leave them out of her own speech
- may leave out some sounds, particularly 's'
[source: WA Government Health Brochure]

Siemens Pediatric Program
Siemens are one Hearing Aid company that have a specific Pediatric Program.
One issue with hearing aids for children is that their ears grow quickly.
Earmolds for infants may need to be replaced as often as every few weeks, with older children being several times a year.

If you are concerend about your child's hearing look for a specialised children's audiologist.
For a quick view now check our Hearing Aid Prices