Phonak Q10 Hearing Aid Review
Hi Phil
I got a Phonak Q10., for my right ear only.
I appreciate that audiologists recommend both ears have aids, but I am VERY VAIN and did not want behind the ear models that could perhaps be seen.
In the discussion with *****, her advice was not to have "in canal" for my left ear as it would likely partially mask my natural hearing.
Hence I opted for a single in canal for my right ear. We also discussed the possibility of my options if this proved to be the wrong decision.
I was amazed to hear that ***** would allow me 60 days to trial and if unsuitable we could revert to her preferred option of mini behind both ears, and only pay the price differential. (Or return the Q10 and take a refund!)

So far the single aid is working well, though it's only been 5 days.
Genuine Phonak Hearing Aid Review
My experience so far:-
A little strange to feel something "lodged' in my ear at first, but now I'm becoming more comfortable with it. On occasion it feels a little "ticklish". I guess that with time it will be as natural as wearing a watch or glasses.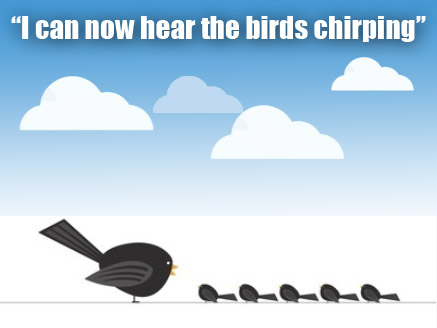 At first everything seemed so much louder. Traffic noise. Birds chirping. (Do you know how good a willy wagtail sings?)
I have reduced the volume on our TV and radio to almost half the level that I needed before - much to my wife's pleasure.

The most amazing early experience was in a busy bar/restaurant with a fair bit of chatter noise. I looked across at someone two tables away and when I looking at them, I could clearly hear their conversation! Not something that I really want to do, but it was unbelievable.

I listened to some music over the weekend and while I thought I knew the pieces well, I was staggered at how much I was missing before. Subtle sounds that I had never heard before, made the complexity of the Blues so much more enjoyable.

The best though, is in my workplace where I no longer have to strain, or partially turn my good ear, to hear conversations. Life is so much easier, and as yet no-one has noticed that I'm wearing an aid (Well maybe they have, but are too polite to mention it!)

Any negatives - one or two.
I can hear other people's mobile phone ring tones. Some are so crass and plainly annoying!
I can no longer apply "selective hearing" when my wife speaks, I have to respond (or suffer the consequences!).

All in all it has been a revelation and my only regret is that I should have sought "sound" advise years ago.

It's a big step to make the decision to have a hearing aid, all sorts of issues need confronting.

Many thanks for all your help and support, it's been very much appreciated.

Best regards

David
Tags