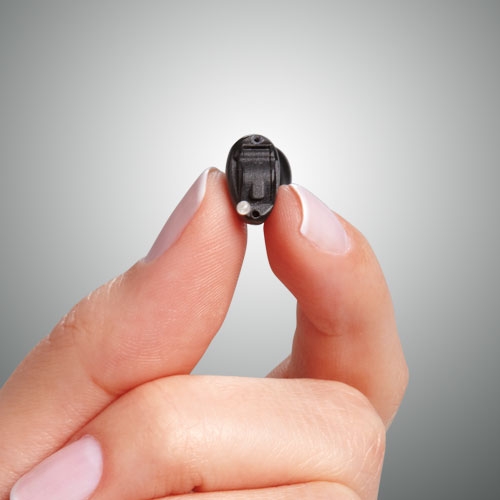 An Invisible Hearing Aid
My first hearing aid was a Starkey and I really wish it was one of the new SoundLens as they are very small.

The features are -:


Completely invisible in most ears
For mild to moderately severe hearing loss
Custom-made for you

See full details of the SoundLens

I also believe that Starkey are coming up with a better technique to fit the completely in the canal hearing aids.
The usual scenario is to make a mold for your ear by pumping a Plasticine like substance.
The dangers are that there is pressure on your ear drum or the substance gets left in there.
With the newer technology a scan of the ear can be made that eliminates the uncomfortable and possibly dangerous other technique.
As the smaller aids will fit closer to your eardrum there may be more risk in the mold process. Hence you would always need a professional to fit this device.

At the moment I have a behind the ear hearing aid which is very comfortable - in fact so comfortable every time I go surfing I panic that I am wearing it as it is almost unnoticeable.

There is a difference with a completely in the ear hearing aid so it may not be for everyone.

These aids depending on your ears anatomy can be completely invisible.
Unfortunately my ears are small with a twist so previous completely in the canal hearing aids still were unnoticeable.

These new aids will not come cheap and are listed on our hearing aid prices section showing the best prices we can find.

If you have an old analogue hearing aid - the newer digital aids are amazing - the clarity of sound is what you will notice.
Invisible In the Canal Hearing Aids not for everyone
These aids fit very close to your eardrum which is a moist area and can lead to issues with the aid. They may not suit every wearer so as ever having an audiologist who can give you a trial is beneficial.
For a quick view now check our Hearing Aid Prices
Get the best value and care via our Hearing Aid Referral program.
Tags