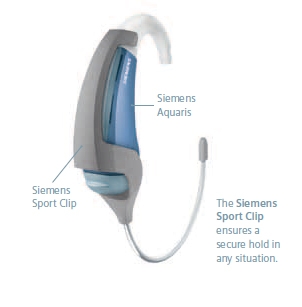 Waterproof Hearing Aids
Siemens have bought out a new series of waterproof hearing aids called Aquaris.
These aids are water dust and shock proof.

Siemens say they are not just water resistent but "truly waterproof".

Sports Clip
The obvious question is would a hearing aid used around water be a risk of being lost?
This hearing aid comes with the optional sports clip that tucks under the ear.

Prices for Waterproof Hearing Aids Australia

The price for these aids are-:

Siemens Aquaris 501 $3995.00 (each aid)
Siemens Aquaris 701 $4490.00 (each aid)

This puts them at a similar price to most high end hearing aids.

There appears to be some limitations on warranties in that they need to be checked every year to maintain the waterproof warranty.
A hearing aid that is waterproof would be helpful in situations like Gyms where sweat can cause issues with some aids.
For a quick view now check our Hearing Aid Prices