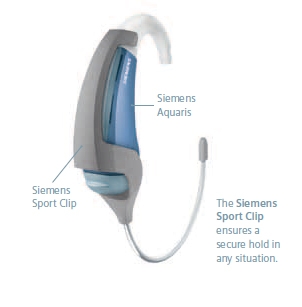 Waterproof Hearing Aids
Updated September 2021
The notion of waterproof hearing aids arrived with Siemens Aquaris (501 and 701) in 2012.
That hearing aid is no longer produced and there is no specific waterproof hearing aids (we are aware of).
So the short story for athletes or people constantly in or around water is there is no hearing aid that is "waterproof". There are hearing aids that have water resistent ratings.
Modern hearing aids have IPX ratings (IP is the Ingress Protection or International Protection rating system), making them extremely resistent to water and dust.
IPX Ratings for Waterproof Hearing Aids
Take the leading Phonak Paradise Hearing Aid (arguably one of the best on the market).
It has an IP67 rating - the first number 6 is the level of dust protection which is dust proof and the the second number, 7 is the level of water or moisture protection. (it could withstand up to 30 min in a metre of water.)
Solid Protection
| IP Code | Protection |
| --- | --- |
| 1 | Protection from contact with any large surface of the body, such as the back of a hand, but no protection against deliberate contact with a body part |
| 2 | Protection from fingers or similar objects |
| 3 | Protection from tools, thick wires or similar objects |
| 4 | Protection from most wires, screws or similar objects |
| 5 | Partial protection from contact with harmful dust |
| 6 | Protection from contact with harmful dust |
Moisture Protection
| IP Code | Protection |
| --- | --- |
| 1 | Protection against vertically dripping water |
| 2 | Protection against vertically dripping water when device is tilted at an angle up to 15 degrees |
| 3 | Protection against direct sprays of water when device is tilted at an angle up to 60 degrees |
| 4 | Protection from sprays and splashing of water in all directions |
| 5 | Protection from low-pressure water projected from a nozzle with a 6.3mm diameter opening in any direction |
| 6 | Protection from water projected in powerful jets from a nozzle with a 12.5mm diameter opening in any direction |
| 7 | Protected from immersion in water with a depth of up to 1 metre (or 3.3 feet) for up to 30 mins |
| 8 | Protected from immersion in water with a depth of more than 1 metre (manufacturer must specify exact depth) |
Tags